February 28, 2018
Posted by:

admin

Category:

Business Process Automation, Business Process Management
Last month the Nintex Team led by Palesa Emmanuel Sikwane (Technical Evangelist- SWECA) and Stefan Gous (Territory Manager-SWECA) took the East Africa SharePoint User Community through the Nintex Platform and its capabilities. The following is a summary of what they covered during the Webinar.
Palesa began by giving a brief history of Nintex's founding, what they do and what they've achieved to date. It is worth noting that Nintex is recognized as the market leader in intelligent process automation for the enterprise by a number of reputable research firms.
Process automation is key to digital transformation, though a Lazard Research Report notes that "…68% of all enterprise processes remain highly manual…" and this spans across all different verticals. This is a staggering number even with all the investment made in deploying various information systems from ERPs to CRM Systems to Human Resource Information Systems (HRMIS) among others. It is clear there still exist a huge gap in digitizing the operations and various functions within the enterprise.
Palesa also highlighted the main product line from Nintex Workflow which include the following:
• Nintex Workflow for SharePoint (this supports SharePoint 2007 all through to SharePoint 2016)
• Nintex Workflow for Office 365
• Nintex Workflow Cloud (this works independent of SharePoint)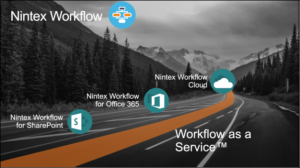 He then went deeper into what Nintex refers to as the Digital Business Platform (Workflow & Content Automation) which consist of the following modules/products:
• Nintex Workflow- This the workflow engine and designer available both on premise and in the cloud built for SharePoint, Office 365 and also Independent of SharePoint
• Nintex App Studio – This allows you to customize Enterprise Apps without writing any code
• Nintex Forms & Nintex Mobile App- Form Designer and Mobile App
• Nintex Drawloop Doc Gen- This helps you to dynamically create documents based on a set template
• Nintex Connectors – This allow you to interact and integrate with other systems (Line of Business Applications, other SaaS Services etc.) using the Nintex Platform
• Nintex APIs/SDKs- This allows to extend the capabilities of the Nintex Platform
• Nintex Xchange- This is an online store where you can download Nintex Assets
• Nintex Hawkeye – The Analytics tool
Palesa took the audience through the three pronged approach that they use at Nintex. This includes People, Content & Process as shown below: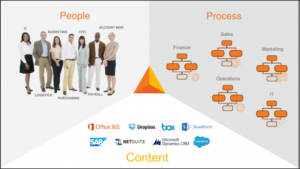 He then transitioned into the fun part of the presentation, the demo, to show Nintex Workflow live in action. The following are the highlights:
• The LazyApproval feature of Nintex Workflow enables approvals or rejections of an item to be registered when the approver replies to the notification email or respond to the automated OCS or Lync conversation with a permitted word or phrase.
• Workflow Viewer, which gives a visual representation of the workflow.
• Offline capabilities of Nintex Mobile which allow all forms to be safely stored on devices until the user is back online.
• Creating and customizing Mobile Apps using Nintex App Studio
• Using the Nintex Hawkeye Analytics Tool to produce rich and intuitive reports and dashboard
We finally wrapped it up with a look at some of the use cases, training and learning resources and then Q&A.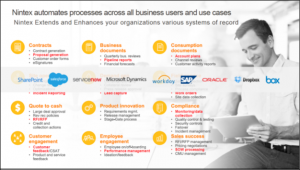 For more please find the full recording of the presentation below:

PowerPoint Presentations- http://bit.ly/2F1y2gu
---
Alternate Limited is a certified Nintex Partner in the region. If you wish to schedule a live demo or require further information on Nintex and its offering please contact info@alternateltd.com